Hello,
There are a couple of items of news that need to be dealt with, the first being our first proper look at the new Burn Leslie Sim:
http://youtu.be/MtCAJjECfnM
On first glance its not too bad at all, the things I like are the tube OD in the right place, the flexibility in tone of the Leslie and the reverb. From the demo I have seen so far its not quite got the edge over the Ventilator:
…but then its horses for courses really. The Neo is pure to the 122 (or tries to be) whereas the Burn is going for the more configurable angle. It does seem, and I would like a play with it, that a wider range of sounds can be obtained by the Burn given enough time to play with it. For me I prefer the Neo emulation but I can see how the Burn may get more use in a small studio because of its flexibility of sound. All this talk just makes me sad I can't squeeze the 145 into as many gigs as I like; I'll just check my gig guide and see when I can next bring it out!
There's a lot been said about the SK series and that isn't really news so I'll leave it alone. I don't kind of like their advertising strategy though, basically they are saying "its so light even a woman can lift it", not sure about that. I get it, its light and it has other sounds on it, like my old Roland XP-80 but that's a rubbish Hammond clone. Currently I rehearse on the first floor and its even crossed my mind to get an SK as a practice keyboard but for live it's just not for me. I like a heavy keyboard, its not going anywhere and it keeps me fit – two for one!
What *has* been premiered over at NAMM is the new XK1c:
What do you think of that? Same ugly face (the organ not the player) of the SK series, not a work of beauty again, but a pretty good entry level system with a cool tone. I did like the Vox and Farfisa settings and the fact that Hammond are still endorsing a keyboard that only does one basic sound – playing a piano patch on Hammond keys with Hammond action feels so alien.
On a final note get yourself over to Malc's site he's a tasteful player and knows a lot about Hammond. He works for them as many of you know and I had the pleasure of meeting him last year on the roadshow; picked up a couple of nice tips concerning the internal overdrive and had a good mooch around non-leslie amps. Anyway, he is playing the SK2 now (the current Hammond flagship right?) but there are a few really useful videos on there for an XK owners on how to improve the overdrive and percussion sounds and increase the authenticity in general of the clone. Add to that the greasy tone wheels patch that we have mentioned before and it gets really close. Stick it all through a vintage Leslie and its hard to tell the difference. I mean I said I liked weight but I'm not crazy about carrying a C3 around!
Fishing around now for a nice closing picture of a Hammond…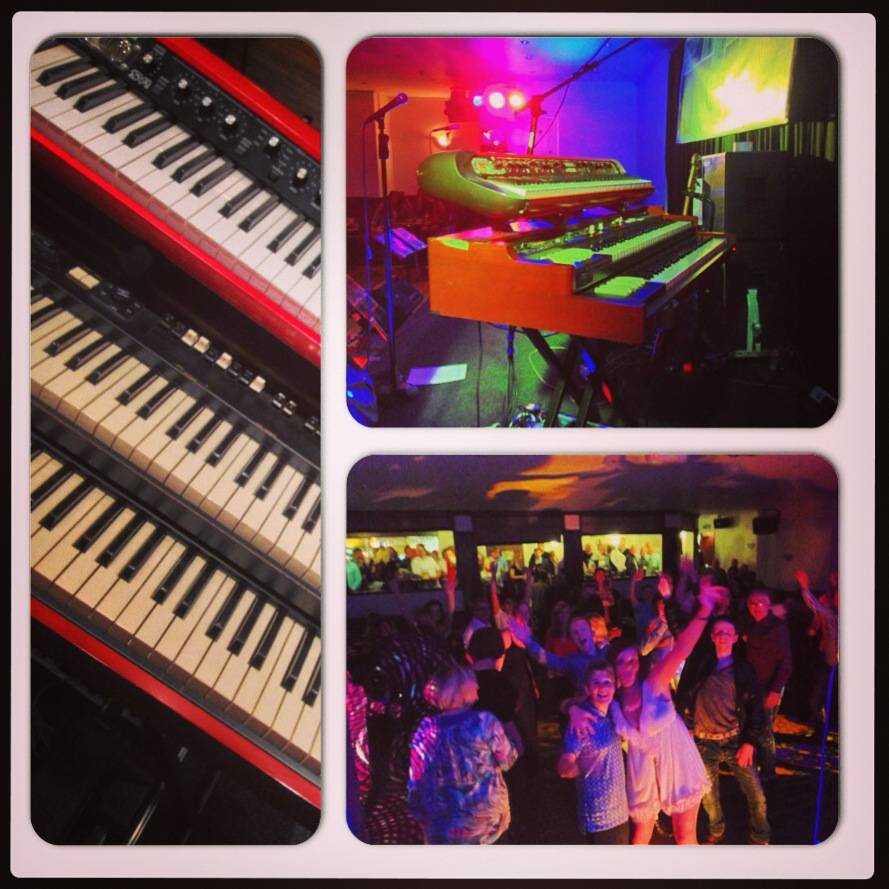 Ah here's one from a gig I did in June 2013
See you soon,
Nick