Hi,
My name is Nick and I am an addict. Regular visitors to my pages will know this already of course but I find it useful to say it out aloud now and again to help curtain my spending. My latest 'bargain' was the 760 Leslie Speaker. Owning a 122 and a 145 already you may wonder why I would feel the need to take in an old 760 into the family. Well, firstly it was at a very good price and that's half the battle won with me but I think that these three models really do have their own place and deserve a bit of glory in their own right.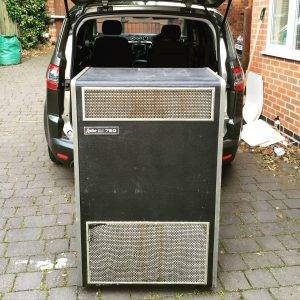 My 145 is my staple, its been converted to 1/4″ input and is solid as a rock. The internal workings are fully services and apart from a common fault of "thunder" (which is fixed by changing a £5 volume pot) it hasn't put a foot wrong. Its smaller than the 122 (8″), on wheels, more portable and just the right height to rest your pint on. Okay, that extra 8″ would bring the top rotor closer to your ear and this is in fact the only drawback of the amp. Its quiet. You don't want to run it on 10 all the time if you can't afford to replace the top driver and it is easily drowned out by a rock drummer. There are a couple of solutions to this is you want to persist with the 145, firstly and simply mount it higher up. Put it on its flight case or some bass fills and get the tweeter higher and your problem goes away. Alternatively upgrade the driver so that you can run it on 10 all day long without blowing it.
Some interesting talk on replacement Leslie drivers here
That said, the 145 is an excellent tool and has served me well.
The 122 is a little different. Its only hearing them side by side that you realise that the 145 is a little boxy and that the 122 has that pleasing reedy quality that records so well. Its taller too so feels louder and in a strange kind of way for me the extra height makes it easier to get in and out of our van as it can pivot in the van and on the floor. I've added wheels to is, which you should do immediately (not to the base as its a little soft but to pieces of wood and then to the base. Also this leaves a gap for Lower Rotor bearing access – you will need that trust me.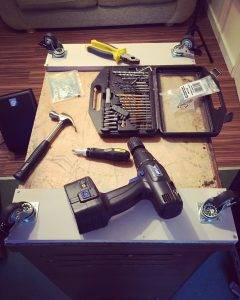 I have had this Leslie customised a little to in order to run it natively from my C3 via standard effects and also with my XK-Pro Hammond. Apart from that the amp has been converted to 12v fast/slow switching to avoid all of that 240 nonsense by your fingertips all the time. Its quieter, neater and more efficient but I will elaborate on this in a later article I intend to do about the full refurb that is has gone through over the last couple of week. More on that later.
Get on with it!
This brings us onto the new boy and the purpose of this article, the Leslie 760. Its a beauty, horrible looking, rough and ready. You KNOW you only have this because it sounds great. The more road battered the better to my mind, which is handy in this case. Now this Leslie I do not intend to use with the C3, why would I really? If I were to get out more with the C3 and not just use it for recordings I may well start to use the 760 with it a little more but currently the 122 has pride of place in the audio chain. (I did record recently with the C3 and the 145 as it seemed to fit more the sound I was after at the time but that's unusual – miking techniques can usually get around having to do this).
The 760 has been converted (again!) by my man Neil, who incidentally is Hammond For Hire on these sorts of things so if you need any conversions or servicing please contact me here and we can quote you up. Running on 1/4″ opens up the amp for use in many ways and particularly with my Hammond XK. The beauty of this beast is its volume, its 90 watts of power – its very very loud, especially compared to the warm but quiet tones of the 122 and 145. Uut of the box though, its brash, harsh. The solid state amp doesn't bend when you hit it (with volume), in a way that you've only just realised that valve ones do. It has its tone and it will present this tone all day and all night without faltering with any input at any volume.
Another good upgrade is the handles. for less than a tenner you can buy good quality handles (try Maplins in the UK) that make carrying this beast a sinch (it comes with wheels anyway!). You can use the original hole to line it up with and the original 4 screws and captive nuts.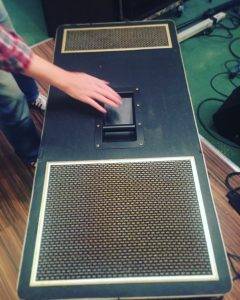 Many plusses then and I discovered that there is a very simple way of removing the boxyness from the chain.
Tuning the 760 Leslie Speaker
I setup the XK-3c top on top of my C3 and connect it to the 760 and the C3 to the 122 to try and get the C3 sound out of the 'live rig'. the XK-3c has a tone know (as does the XK3) but importantly the 'c' also has timbre and I found that by pushing the timbre up and scooping the middle right out I was able to transform the sound of the 760 until it was surprisingly similar to the output of the C3 / 122 combination. Surprisingly close guys!
And all was good. This meant that I now had a quick and easy valve speaker, a soulful recording rig and now a way of holding my own with the loud boys in a live environment where setup time and onstage volume were strong considerations. Given the space and the right sound engineer I would still use the 145 but I've played some big places where the miking has been wrong and the flutter has been loud etc.. I think the 760 will perform better here, the volume to flutter ratio will be lower and frankly these days I provide a my own mics and submix anyway, makes it easier.
So why do you want a solid state Leslie in your arsenal? Volume, and with a bit or coarse EQ tone. The valve ones are better no doubt but they all have their distinct characteristics and that's why I cannot let any of my Leslies go, I may soon need a bigger studio!
This one's for Greg Gronowski, RIP.
Nick