The authentic C3 organ sound
For organ recordings, my studio relies upon with "The Beast" and his brother: my 1960 Hammond C3 and 1966 Hammond M102. These fully restored and professionally maintained mechanical organs mate beautifully to my 1960 Leslie 122 for all my remote session work.
The Organs are modified to remove the 1960's clicks and crackles that today's recording technology picks up, and feature the amazing Profkon ZD-1 overdrive system. This improves the authentic tones even further, exposing playing nuances and  getting just the right sound for clients.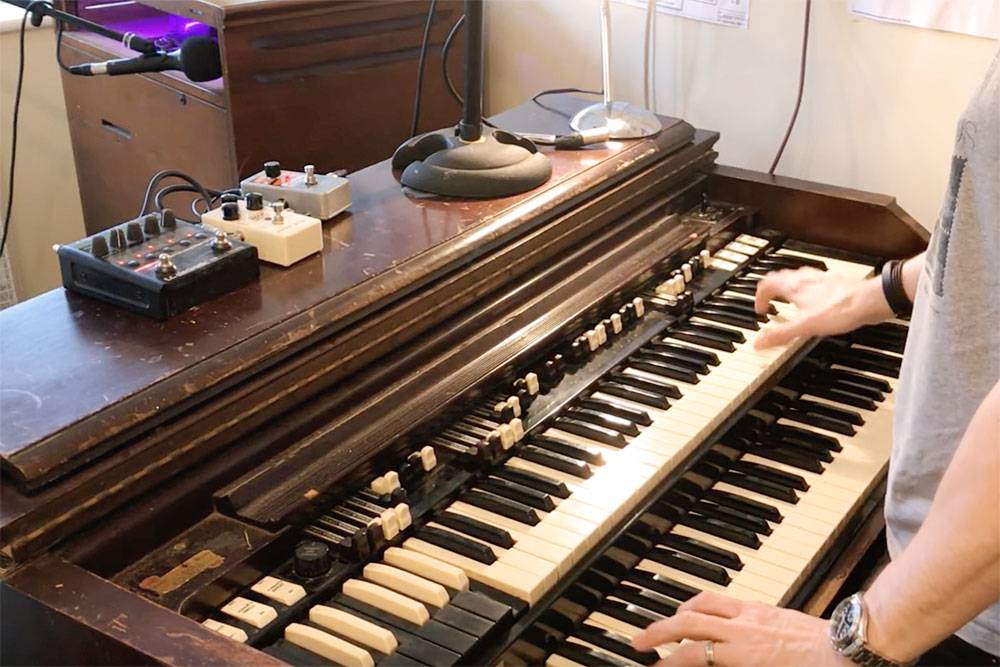 Microphones
Recording rotating Leslie speaker cabs has long been a dark art. But after a few years of trial and error combined with the study of old photographs, I've arrived at a setup that captures exactly the sound I need.
My Leslie 122 is usually recorded with five microphones starting with two CAD Audio Trion-700's mics on the top rotor, panned hard left and right. Two additional Shure SM-57's sit on the same axis between the Trions and are half panned in stereo. This allows me to accentuate the authentic "grind" of the speaker rotor movement or to  choose between a combination of tones depending on the session requirements.
For the bass rotor, I use a Shure Beta52a kick drum mic which warms up the tone and is not overly sensitive to flutter. Occasionally, I will add a final Rode NKG as a room mic to bring is a more mellow tone for more sensitive tracks.
Post-production
All microphones are routed into my DAW, controlled by an expanded Icon QCon Pro X console, where I add Waves Studio's amazing EMI Channel Strip and DBX160 Compression/Limiter emulation to each channel. I then route them to a single stereo channel where I can add reverbs if required.
The mix bus also has some the subtle addition of  the Abbey Road TG Mastering Chain. Here I add some tape and vinyl emulation along and apply the SSL G-Master Buss Compressor when required for good measure.
Non Hammond stuff
Other musical equipment in the studio includes my cherished Fender Rhodes Mark 2 Stage piano, which mates perfectly to either my Lounsberry Tall and Fat or Wirli-Grinder pedals for a perfect retro tone. I have a Roland electronic drum kit for guide tracks  along with assorted guitars, bass, stomp boxes and some outboard gear.
By popular demand I am back this week and will continue my thread of Deep Purple and Jon Lord covers, showing you how I play these classic tracks section by section. This week we are looking at the opener, Highway…