When I heard last year that Richie Blackmore was considering playing live and loud music again for a limited time I thought that I'd have to take a look. I mean here is a guy I last saw in his prime way back in 1987 (I know!) when he ripped the National Exhibition Centre in England a proverbial new one, and in fairness that was on the back of the much less critically acclaimed House of Blue light tour (unfortunately Deep Purple did not tour the Perfect Strangers album in England bar the one Knebworth Festival in 1985.) I did see him again in Deep Purple during the Joe Lynn Turner era but really the less said about that the better (Turner's only real problem was that he wasn't Gillan/Coverdale) but Ritchie was, that night, not in the 'best frame of mind' I fear..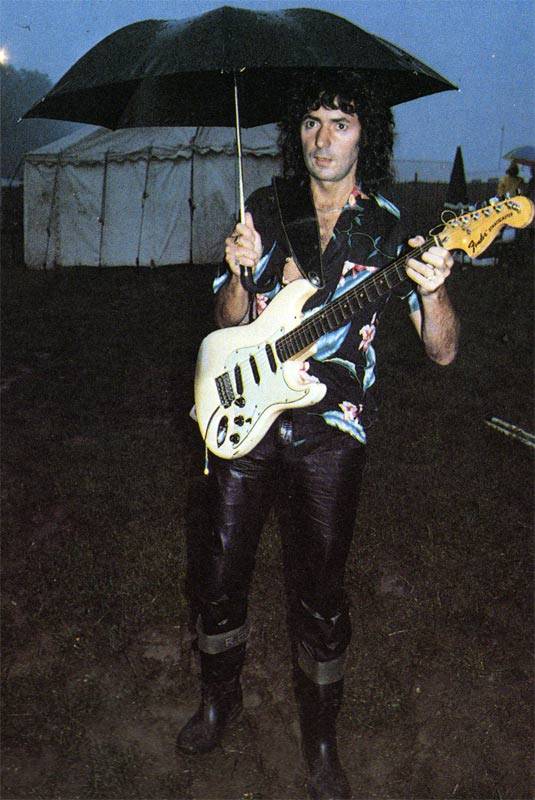 But what to expect? Well, I knew that Ritchie was having difficulties with arthritis, and wanted to do a limited run of gigs before the illness prevented him from playing electric again, so I had throttled back my hopes a little that he would be on blistering form and settled for the fact that it would be amazing to see my guitar hero playing at all – especially at the age of 72!
We arrived in good time and checked out the Guinness and then the stage. A very shiny (box fresh) Hammond B3 and 122 by the looks of it. The 122 was so far away I wondered why it was even on stage but at least they have the right starting equipment.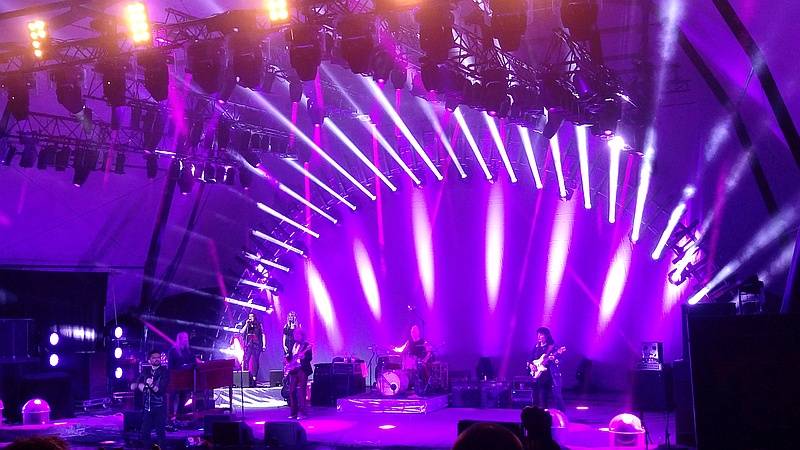 It was also good to see that the Hammond Organ had been pulled right in to the centre right of the stage and not way out on the wings and out of the way that is usual with most bands (and certainly was the case with Deep Purple and Rainbow in the past – I see that with Don Airey now at the Organ he has moved himself in a bit on a level with the drums. Still too much in the background for my liking).
The Organ sound was, okay to be honest. It seemed straight out of the box I think and exactly how Hammond-Suzuki had wanted it to sound, bubbling away at full throttle under a volume pedal – you know the sort of thing. Thing is, that is not how the Organ in Rainbow or Deep Purple used to sound and I think may have benefitted from a 'lively' pre-amp stage instead of the factory bottled one. You know that dirty but precise sound that is 90% perfect for all things. Its obvious really but stick a Marshall in the pre-amp stage and all of a sudden it begins to grind in your face (and not quietly and neatly when asked to). It could have been down to micking and mixing however , it was hard to tell, but all I know is that it didn't jump out at my like it would have at say a Deep Purple concert. A little tame. Still a great sound though but it didn't really 'sing' at all during the evening.
You know what, the gig was okay. It was a piece of memorabilia really, Ritchie wasn't on fire but it was great just to be in his presence really, his guitar sound was not as driven as before in Rainbow – probably reflecting the more acoustic nature of the last 20 or so years – so any mistakes stuck out like a sore thumb especially as he was easily louder than every instrument on stage put together. Too loud in fact. I can accept a 72 year olds tired fingers gracefully, as I said I enjoyed the gig a lot, but what was harder to accept were the bands mistakes (more on that later). The singer (Ronnie Romero ) however was incredible, first class vocals and front man. Man he's going places. Do make it a point to check this guys voice out.
https://youtu.be/TDrDYn0a3tk
There is no denying the talent of Jens Johansson  on keyboards (yes he's a little Jazz Odyssey at times and I am not sure I saw him change a drawbar registry setting all night) and I am sure that David Keith is a crackajack drummer but it all felt a little under rehearsed to me. The music didn't flow correctly and each musical part seemed to be jammed together in the song with gaps in playing between verse and chorus etc.. Poor old Jens screwed up the Organ intro to Perfect Strangers and the solo in Burn too. These are iconic pieces that really should simply be learned and played. Maybe 3 gigs isn't enough to fully commit to learning all the songs mixed in with an already heavy schedule but hey this wasn't a pub gig this was the Genting Arena in front of something like 10,000 people!
Lighting queues were also missed all over the place and darkness prevailed, sound queues were also sloppy – in Stargazer (a fantastic highlight of the evening, do check it out below) the last chorus outro contains a string section on the album and Jens started to play this to good effect. It needed to be louder and the sound guy had this on his queue sheet but obviously turned up the Keyboard submix so just as you started to hear the strings they were drowned out by his backing (left hand) of the B3.
https://youtu.be/C9bJ143LF2s
It was great to see a Hammond take (almost) centre stage at the Genting Arena this weekend however, and I am glad that I went to support Ritchie and his mates at the gig. Ritchie did the best he can and we had a great time at the gig. I cannot really excuse the people half his age on stage making such big mistakes however (David Keith nearly lost a quarter beat on the outro of Smoke on the Water that would have been most embarrassing). More rehearsal needed to make this look, on balance, less like a cynical tour.  I do hope that it is not. So checkout Ronnie's full-time band Lord of the Black and some of his Dio impressions on YouTube, he really did come across as an amazing singer and front man!
Am I glad I went, yes. Did I have a great night, yes. Was it worth £50, probably but most of all it made me want to play my Hammond, and for me, this is what live music is about.
Long Live Rock and Roll!