Good morning/afternoon how are you all going? I hope that you are all staying safe and well during this difficult time?
Today I wanted to talk to you about Lounsberry pedals, a really cool independent effect pedal manufacturer based in the US that are turning out quality boutique effects , many of which are aimed at the keyboard market.
I have been using Lounsberry since they first came on the market, with my Hammond XK-5 system. I have tried many many devices and even did a shoot-out on these very pages so it won't be a shock that I recommend them now (as I always have) as the best on the market in my opinion.
Lookout for the fishpaper, sweetwater tweaked Organ Grinder its a killer!
My refurb of a Hammond M102 that I recently acquired (also scuppered by the virus) has been discussed in these pages before and I have tried the Organ Grinder on that with pretty good results. When it finally gets reassembled with the foldback modifications and key-click filters removed we can have a long road-test and is if it will be the OG that supplies the growl for this organ on-stage too!
Since doing my shoot-out videos etc.. I have been chatting to Greg the owner about all things organ and particularly overdrive. I have found him a very amenable and good-hearted chap who is genuinely in it to help. Through our conversations he has now made me a featured artist and the first UK endorsee of his products. I'm thrilled to have been chosen and so happy that I would completely endorse the quality of the OG-1 pedal whether I was an endorsee or not.
Here's what he had to say:
Jolly nice wasn't it?
Greg has asked me to have a look at his new WurlyGrinder pedal and see what I think of it. Covid has kind of gotten in the way a little here but I have looked at it particularly using mainstage and found it to be really pleasant. I plan to review it soon and then return to it on a Fender Rhodes (when I can find a decent one to use) to get a feel for how good it is with software pianos and the real thing! One thing that struck me right off the bat actually is how good it is with mono-synth's – I think there is some mileage in this usage!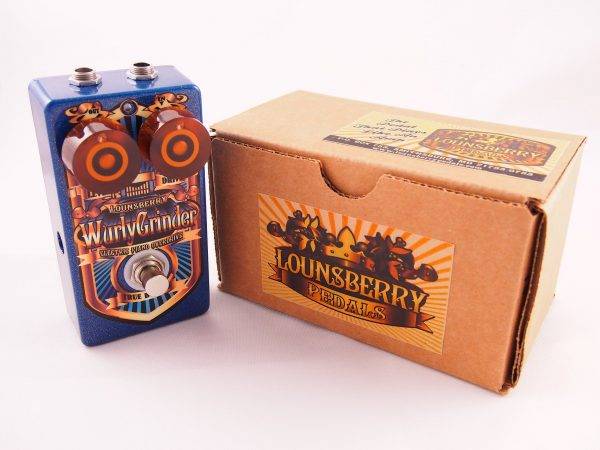 I've found them a good quality product, but do take a look at my previous shoot-out and decide for yourself. please let me know what you think.
More videos coming soon folks, I have had quite a few questions asked of me over the last few months so I plan to put them together into a video for you as soon as I get some time.