Morning guys, I had the pleasure of playing a new venue (to me) last week in Derby. A very nice place called The Flower Pot, a venue with a lot of history and character. I thought I might do a sort of day-in-the-life run through of how it went, for those of you who are interested.
We were called for 6:00pm and with a 90 minute drive ahead of us that means teatime is around 4:00pm before you load the van an get on the motorway, the latter being set at a 30mph speed limit for some considerable distance. I'm pleased to say that we arrived exactly on time, this is important at a new venue obviously so that the booker/owner get a feel for how much you value the venue and your personal and collective integrity. This will pay dividends and the years roll on.
We knew that we were not all going to be able to make it at 6:00pm but the Organ was setup on a clear stage quite quickly just in time for the Drums to arrive.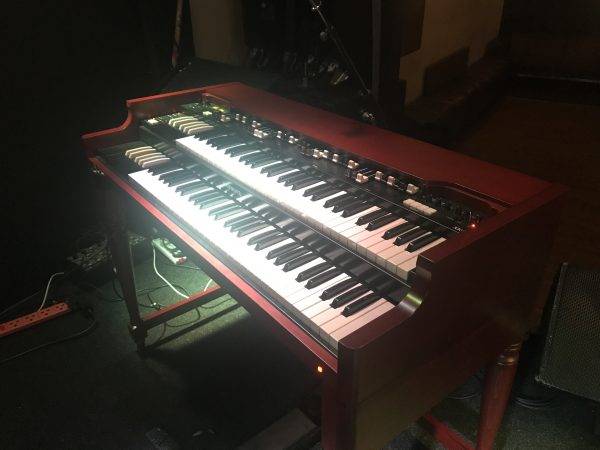 The XK5 / A3 sounded fantastic through my Leslie 145 and into their PA! Sid the sound guy continued to stealth his way through the equipment popping up microphones as drum shells became available. I heartily recommend bands putting "tech riders" on their websites so that venues and engineers can get a feel for what is going to be required of them in advance. Imagine me turning up cold with a 1974 rotary Leslie speaker unannounced!
Vocals arrived next and as we waited got Guitar and bass (who had been held up in a queue on the motorway) Sid regaled us with some fantastic stories of gigs gone by, notably Michael Schenker group and Wilko Johnson, until soundcheck.
On a different day soundcheck may have been a little fraught but Sid was capable and professional and really put us at ease. The Leslie Mics were picking up so much drum kit that we didn't need the snare and Tom mics switched on at all. We changed them for more directional ones but the out-front and on-stage sound was average.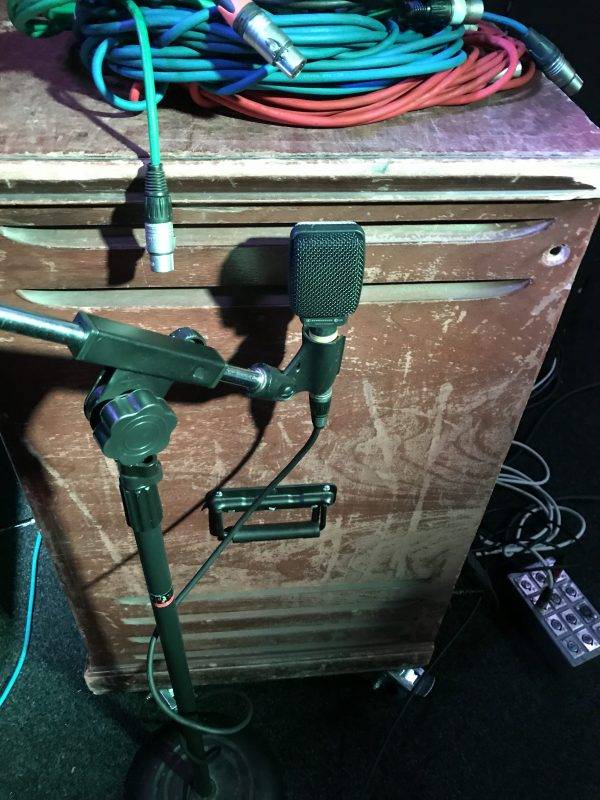 Original Senheiser e6016 placement
I had the idea to move the Leslie 'around the corner' a little, behind a sort of ledge and put the bass amp where the Leslie was. This made things a little cramped for me but improved my monitoring no end. All of a sudden the problem was gone and the sound on stage cleared right up. Sid was happy, we were happy.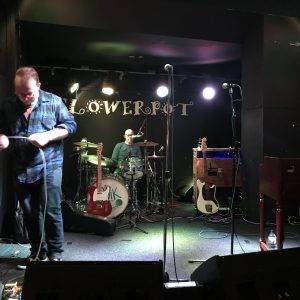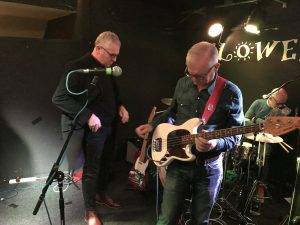 Soundcheck went smooth as could be, all checked we went for a stroll and a beer and checked out the other parts of the sprawling venue.
21:00 we were called to the stage from the dressing room and fired up. We did two sets, 45 mins and 60 mins and gave it our all. Our first time in Derby I was pleased by the amount of people that had made the effort on a cold and fiscally poor January evening to come and see us play; we even had regulars from the West Midlands appear (and my Auditor!!!) so a good attendance all round. Speaking to the audience after the show and they all said that that would come and see us again next time and bring friends, which is all that we can hope for.
Curfew was relatively early too and being a separate room from the pub itself the strike was simple and effective, on the sofa as I was by 01:30. Just the 9.5 hours then..
A successful outing, the venue were suitably impressed as where the audience so job done really, looking forward to playing there again soon and hopefully meeting a few of my Derby musician friends if possible.